click to expand
by Aakash Athawasya
While it won't have the limelight of its technology predecessors, the public offering of Chemcon Speciality Chemicals is expected to be strong. At the intersection of two promising industries, especially in a post-COVID world, pharmaceuticals, and oilwell chemicals, the company's opening show should reflect the industries it represents.
Chemcon Specialty Chemicals was incorporated in 1988 in Vadodara, Gujarat, the company has been around a lot longer than some of its market competitors. The company's products include oilfield and pharmaceutical chemicals, as well to contract manufacturing of the same. In addition to the domestic market, the company exports its products to 11 countries, including the United States, Russia, Germany, China, South Korea, Japan, Spain, Thailand, Malaysia, Serbia, and the UAE.
The company serves key players in the pharmaceutical business including Laurus Labs, Aurobindo Pharma, Lantech Pharmaceuticals, Macleods Pharma, Hetero Labs among others in its pharma chemicals division. On the oilfield chemicals side, its customers included Shree Radha Overseas and Universal Drilling Fluids. 
With the pharmaceutical industry and the specialty chemicals industry moving up by 46.5% and 38.3% respectively over the past three months, Chemcon Speciality Chemicals has strong investment potential. The company's IPO is scheduled for 21 September to 23 September, with the objective to raise Rs. 318 crore in a fresh issue of 93.5 equity shares.
IPO Breakdown - Ownership
With a price-band of Rs. 338 to Rs. 340 per share, the fresh issue will amount to between Rs. 316.1 crores to Rs. 317.9 based on the upper and lower price range. The issued subscribed and paid-up share capital of the company before the public issue is 31.7 crores at a face value of Rs. 10 per share, bringing the aggregate value to Rs. 317.7 crores of the fresh issue.
As per the company's draft red herring prospectus, the fresh issue of equity shares will be based on an offer for sale of up to 45 lakh shares, which would come from two promoters selling their stake in the company.
The promoters of the company are Kamalkumar Rajendra Aggarwal, Navdeep Naresh Goyal, and Shubharangana Goyal, and the promoter group includes Naresh Vijaykumar Goyal, Rajveer Aggarwal, Minal Kamal Aggarwal, and Parul Gupta. The shareholdings of the promoters and promoter groups before is as below:
The company has not specified the division of the shareholding post the issue. However, they have mentioned that the two selling promoters are Kamalkumar Rajendra Aggarwal and Naresh Vijaykumar Goyal who hold 11.9 crores and 52.8 crore shares respectively, at a total of 54.1% of the share capital of the company. 
Intensive Fiscal Services and Ambit Capital are the book running lead managers to the issue.
According to the RHP, the proceeds from the issue will be used for capital expenditure towards the manufacturing facility at Manjusar, Vadodara, at an estimated Rs. 41 crores, to meet working capital requirements estimated at Rs. 90 crores, and for general corporate purposes at an unspecified amount. As of July 2020, the total volumetric reactor capacity at the company's manufacturing facility was 374.8 kl, part of the proceeds from the fresh issue will be used to build two plants with a total volumetric reactor capacity of 251 kl, and one laboratory. 
Strengths
Global leader in pharma-chemicals and Indian-leader in oil well completion chemicals
Diversified customer base and growing export revenues
High entry-cost in the specialty chemical industry
Consistent financial performance: PAT growth from FY19 to FY20 was 13.5%
Seven dedicated manufacturing facilities
Experienced senior management
Risk factors
Promoter group member involved in criminal proceedings
Products depended on the pharmaceutical and oil industries
Product portfolio limited to HMDS and CMIC, for the pharma industry, and Zinc Bromide, Sodium Bromide and Calcium Bromide for the oilwell industry (graph below)
Dependent on top-5 customers (graph below)
Dependent on volatile oil markets
Raw material price show historic fluctuations
Damage to manufacturing facility would impost financial cost: A 2018 fire accident to manufacturing facility caused an aggregate loss Rs. 2.19 crores.
Global economic risks due to export operations (graph below)
High power, water, and fuel requirements
Contingent liabilities and capital commitments worth Rs. 5.8 crores not provided for in balance sheet
Revenue division by pharma chemicals and oil well completion chemicals
Data source: Chemcon Speciality Chemicals, draft red-herring prospectus
Top-5 customer share in total revenue:
Data source: Chemcon Speciality Chemicals, draft red-herring prospectus
Export by country: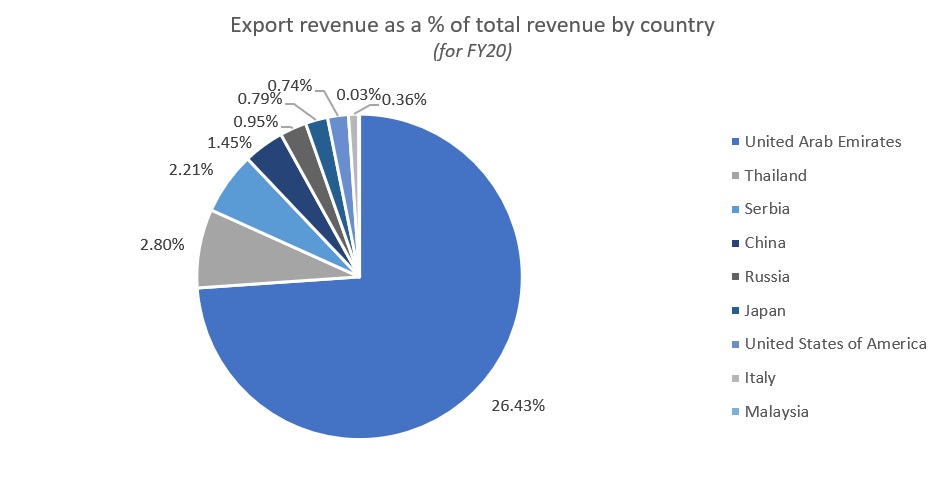 Data source: Chemcon Speciality Chemicals, draft red-herring prospectus
Top Management
| | |
| --- | --- |
| Name | Designation |
| Kamalkumar Rajendra Aggarwal | Chairman and Managing Director |
| Rajesh Chimanlal Gandhi | Whole-time Director and Chief Financial Officer |
| Navdeep Naresh Goyal | Deputy Managing Director |
| Himanshu Purohit | Whole-time Director |
| Rajveer Aggarwal | Whole-time Director |
| Lalit Chaudhary | Independent Director |
| Bharat Shah | Independent Director |
| Neelu Shah | Independent Director |
| Devendra Rajkumar Mangla | Independent Director |
| Samir Chandrakant Patel | Independent Director |
Financials
As per the RHP, the company's revenue from operations for FY20 stood at Rs. 262 crores, which was a drop of 13% from Rs. 303.3 crores in FY19. However, between FY18 and FY19, the revenue jumped by 97.4% from Rs. 157.6 crores to Rs. 303.3 crores. EBITDA for FY20 was Rs. 70.2 crores, representing a 6.3%  jump from Rs. 66 crores of the previous financial year. The EBITDA margin for FY20 was 26.8%, which was a 500 basis points move up from the previous year's margins.
The net profit for FY20 was Rs. 48.8 crores, an increase of 13.5%  from the previous year when the net profit stood at Rs. 43 crores. Net profit as a percentage of revenue for FY20 stood at 18.6% as against the previous year when it was 14.1%.
Data source: Chemcon Speciality Chemicals, draft red-herring prospectus
Valuation
As per the RHP, for FY20, Chemcon's basic and diluted EPS stood at Rs. 15.3 per share, which was an 11.9% growth from the previous year's EPS. The EPS for FY19 and FY18 stood at Rs. 13.5 and Rs. 8.3 respectively.
Taking the higher price band of Rs. 340 per share and the most recent EPS at Rs. 15.3 the company's price to earnings ratio comes to 22.2 times. 
For an industry estimate, the company has taken an average PE of 31.3 times, with a higher extreme of 43.7 times and a lower extreme of 19 times. 
Here's how Chemcon's PE compares to its competitors in the specialty chemicals industry.
| | | | |
| --- | --- | --- | --- |
| Stock Name | Market Cap (in cr) | PE TTM | PEG TTM growth |
| Pidilite Industries | 74,777.1 | 89.0 | -6.3 |
| Aarti Industries | 19,248.3 | 39.4 | -3.6 |
| Solar Industries Industries | 9,592.1 | 38.6 | -3.7 |
| Fine Organic Industries | 9,019.6 | 56.7 | 2.6 |
| Galaxy Surfactants | 6,923.4 | 29.5 | 1.6 |
| Alkyl Amines Chemicals | 6,752.6 | 29.0 | 0.2 |
| BASF India | 6,574.5 | -349.0 | 2.7 |
| Sudarshan Chemical Industries | 3,386.5 | 28.2 | 3.5 |
| Balaji Amines | 2,811.3 | 25.4 | 2.9 |
| Fairchem Speciality | 2,302.0 | 14.3 | -4.9 |
| Himadri Speciality Chemicals | 2,236.4 | 10.9 | -0.3 |
| NOCIL | 2,202.6 | 20.1 | -0.6 |
| Meghmani Organics | 2,107.0 | 8.2 | -0.6 |
| Kiri Industries | 1,735.0 | 31.1 | -0.5 |
| Neogen Chemicals | 1,643.2 | 56.3 | 2.3 |
Market overview
Pharmaceutical chemicals
The pharmaceutical industry has seen massive growth in the past few months amid the pandemic. Indian pharmaceutical companies have seen their stock price rise by 46.5% in the past 3 months, and by 91% in the past one year. The company is in a unique position of supplying essential chemicals to this growing industry. 
Between 2020 to 2023, the global market of chemicals used by pharmaceutical companies is expected to grow at a CAGR of 4%, the market is currently valued at $27 billion (~Rs. 1.9 lakh crores). Two major factors that will drive pharmaceutical drugs over this period is the burden of diseases and an increasing geriatric population. 
In terms of the current geographic competition, the company mentioned North America as the biggest and most attractive market with a strong pharmaceutical presence and capable infrastructure. Europe is the second largest market and is expected to steadily expand during the forecasted period. The Asia Pacific market is also expected to grow steadily because of a larger number of contract manufacturing organizations.
Looking at the domestic market, the annual consumption of chemicals by pharmaceutical intermediaries was Rs. 32,000 crores for FY19, which represented a 7% CAGR since 2013. Between 2020 to 2023 drug production (including exports) is expected to increase by the same CAGR of 7%.
Imports have dropped from FY13 to FY19 from 65% to 58%. The primary reason for the drop was due to the expiry of patents and withdrawal of customs duty exemptions on drugs and intermediaries in FY17. China dominates the import of bulk drugs, but exports from the country have been declining for the past 2-3 years, because of tougher regulations on pollution causing industries in China.
Oil well chemicals:
The drilling and completion fluids market has been growing rapidly because of increased oil and gas exploration activities. The global clear brine fluids market was valued at $860 million (~Rs. 6,306.8 crores) and is anticipated to grow at a CAGR of 5% between 2020 to 2023. The oil and gas sector is expected to be the most important end-user of the clear brine fluids market, and is forecasted to maintain this trend.
Similar to the market for pharmaceutical chemicals, North America dominates the clear brine fluids market as well. The region makes up for around 65% of the market. Asia Pacific holds 15% of the market and is likely to witness robust growth for brine fluids because of the strong presence of shale reservoirs. In the Middle East region, countries like Libya, Syria, Egypt and others have large oil and gas reserves which has led to the growth of its market. The Latin American countries of Brazil and Argentina are also expected to see moderate growth in the coming years.